Micro Bikinis Shopping Cart
Read More
OH LOLA SWIMWEAR it's the leading brand for the most Daring and Provocative Micro Bikinis
Micro Bikinis and Sheer Bikinis Collections | We create the most seductive and daring Micro Bikinis, Sheer Bikinis, String Bikinis and Sexy Swimwear to make you feel confident, beautiful and empowered. Dare to be bare and start showing more skin with OH LOLA SWIMWEAR.
In addition, our ultimate mission it's to help women feel their best selves and celebrate their own unique beauty. With unique on-trend designs, luxurious fabrics and figure-flattering fits. Finally OH LOLA SWIMWEAR will have you looking and feeling your absolute best at the beach, by the pool or on vacation.
Your Shopping Cart To Heaven:
Your about to order the hottest Micro Bikinis that you'll ever had! This is going to be by far the most unforgettable Shopping Cart that you will ever fill! IF by the chance you need assistance before placing your order please do not hesitate to contact us! It will be our pleasure assisting you.
MADE WITH LOVE IN OUR OWN WORKSHOP! OH LOLA Micro Bikinis Brand
All our BIKINIS and SHEER BIKINIS COLLECTIONS are made with the best imported fabrics from Brazil, Colombia and Europe. We count with a team were the most capable staff of artisans combine top stitching techniques plus and outstanding manual labor. Therefore we only deliver top quality swimwear!
Be FREE at last! Feel SEXY ALWAYS and live UNINHIBITED FOREVER! Are you ready for this level of SENSUALITY?
NOT SURE ABOUT YOUR MICRO BIKINI SIZE?! PLEASE CHECK OUR SIZE CHART AND BASIC COVERAGE DETAILS.
Check out our BOTTOMS CHART so you can pick the perfect bottom style for your new bikinis!
The world of OH LOLA SWIMWEAR revolves around those who are UNINHIBITED and love to show more SKIN than usual! Our MICRO BIKINIS and SHEER BIKINIS are SMALL, SEXY AND VERY HOT!
Why Wearing Oh Lola Swimwear Micro Bikinis?
Micro bikinis are a type of Bathing Suits that are characterized by its small size and revealing designs. We produce our Micro Bikinis from lightweight and breathable fabrics, such as Nylon/Spandex and great variety of Mesh and Micro Mesh for our Sheer Micro Bikinis. Also they come in many solid colors and unique prints styles. We can assure maximum comfort during long sunbathing days!
There are many reasons why people choose to wear micro bikinis. Some people simply enjoy the warm feeling of being more exposed, while others find that our Bathing Suits are more comfortable and practical than other types of swimwear. Oh Lola Swimwear Micro bikinis are for sure a great way to show off your figure and confidence.
Benefits of wearing Micro Bikinis and Sheer Bikinis by OH LOLA SWIMWEAR:
Micro Bikinis, String Bikinis and Sheer Bikinis minimize tan lines. Since Micro Bikinis cover less skin than regular bikinis they minimize the risk of uneven tanning. This makes them perfect for achieving a smooth and natural tan during the summer.
Comfortable and airy. Made from lightweight and breathable materials, making them comfortable and airy to wear on hot days. Definitely they also allow for a lot of freedom of movement, which is great for swimming, sunbathing, or playing water sports.
In addition Micro Bikinis and Sheer Micro Bikinis can be a great way to show off your figure and self confidence. If you are comfortable in your own skin, wearing micro bikinis and sheer bikinis can be a great way to show off your curves and confidence. Therefore they can be a fun way to express your unique personal style.
Important: Versatility. Undoubtedly Micro Bikinis, String Bikinis and Sheer Bikinis can be dressed up or down, depending on the occasion. You can wear them with a cover-up for a more modest look, or you can rock them solo for a more daring look.
Here are some additional tips for wearing Micro Bikinis:
Choose the same size that you're used to wear in other bikini brands, our Bikinis will fit small but are designed to fit your regular size perfectly. This clearly will help to ensure that you feel comfortable and confident in your new swimwear.
Consider how much skin you are willing to show. We offer Sheer Micro Bikinis but depending on the fabric it will be more or less sheer. In addition all our Micro Bikinis comes without liners, this helps to give a sheer look when wet (Liners available for most of our bikinis with no extra cost).
On the other hand, if you are not comfortable wearing tiny bikinis in public, you can always wear a cover-up over it.
Subsequently the best advice that we can give you it's to escape to a magical place and have the sexy fun that you deserve!
Visit our Blog for the Hottest Micro Bikini Content and great ideas to fill your Shopping Cart
In addition and for more related content please visit our Blog, we are constantly updating our posts page with New Releases, Micro Bikini Models, Bikini Care Tips, Best Resorts, Promos, Sales, Hot Deals and more! To see our latest posts please visit our Blog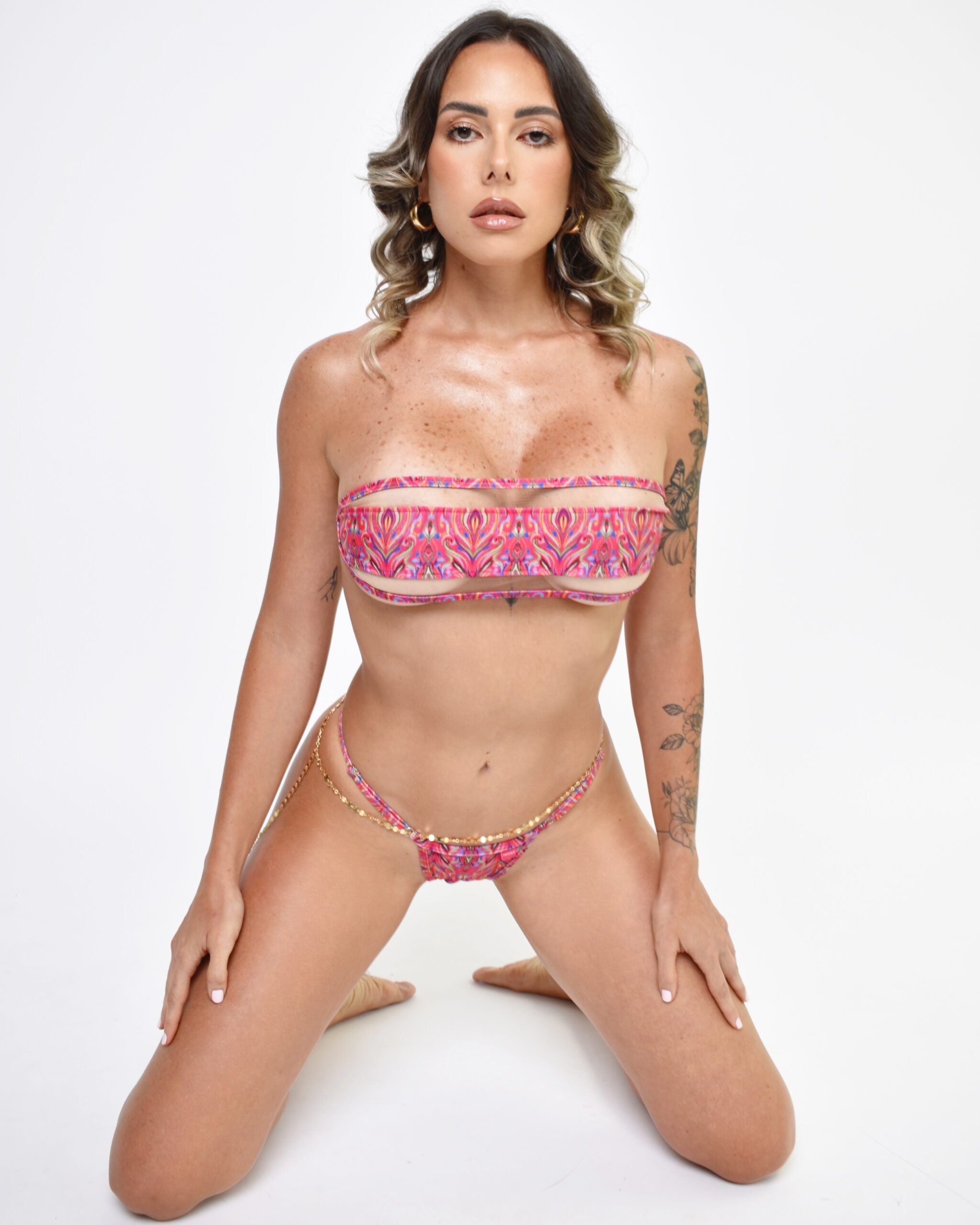 Finally! If you are already one of our beloved clients and you would like us to write a post with your best shots while wearing Oh Lola Swimwear just write us an email at ohlolaswimwear@gmail.com including your High Definition shots (at least 5), your Social Media Accounts and any information that you would like to share with our sexy community.
Micro Bikinis Shopping Cart